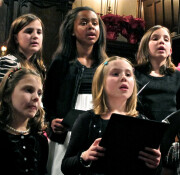 PCUM offers children and teenagers of every age and stage the chance to sing and take their rightful place in the center of this worshiping family of faith--offering their unique gifts, leading the whole community in worship, and gaining experience in relating as individuals to God, to fellow worshipers of all generations, and to themselves.
The Joyful Noise Choir is for PCUM's youngest singers, from Preschoolers through First Graders, who sing and lead the whole congregation in worship on special Sundays throughout the year. Because, for Christians, music is "the language, of prayer," the Joyful Noise Choir rehearses twice a month as a core experience of their education in PCUM's Church School program. They are led by Denise Silecchia who holds a Bachelor's degree in vocal performance from Montclair State University, and has being teaching private voice for over 25 years. She is also PCUM's soprano soloist and section leader.
For more information about the Joyful Noise Choir contact Denise Silecchia at .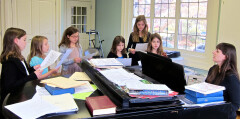 The Children's Choir program is led by Julie Platte and designed to give grade school children an opportunity to grow musically, take roles in worship leadership, and build lasting relationships. The Children's Choir brings 2nd-5th graders together for rehearsal on Thursdays from 4:00 - 5:00 p.m in the Music Room.
For more information about the Children's Choir contact Julie Platte at .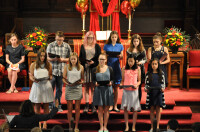 Youth Choir - Middle and high-schoolers who want to offer their musical gifts are an important part of PCUM's music program and overall life of worship. Teens lead worship as part of the PCUM's Youth Choir, which rehearses with Anne Marie Juliano every Wednesday evening from 6:30-7:00 p.m. before Middle School Youth Group. Youth Choir sings during the worship service several times a year.
For more information about the Youth Choir contact Director of Music Ministries, Anne Marie Juliano at .