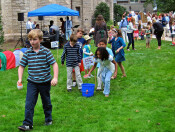 Children and their developing lives of faith in God are central to this congregation's identity and purpose. Whether it's in the classroom or in worship, having fun or asking questions, building lasting friendships or taking part in "hands-on" experiences serving others and changing the world, PCUM's children's programs encourage our youngest to discover and feel God's acceptance and love for themselves.
As they do, our children start down the road of developing a life-giving relationship with God through Jesus Christ, while making meaningful connections between their Christian faith and growing up in today's world.
PCUM's children's program include:
Friday Night Live

!
A Wild Night of Fun, Faith, and Fellowship for 4th and 5th Graders!
The Friday Night Live! program is a "pre-Youth Group" age ministry designed to help nine and ten year-olds build new relationships, develop and deepen their own faith perspective, and get ready to become an important part of PCUM's Middle School and Senior High Youth Fellowship program. All children associated with the PCUM in 4th and 5th grade are invited to gather in PCUM's Fellowship Hall for dinner, followed by an evening of games, music and Bible-themed activities to help children connect their faith with the other parts of their lives. Friday Night Live happens three times a year.
Retreats & Overnights
An Overnight Retreat for 4th and 5th Graders at Camp Johnsonburg is held every fall. For more information or to sign your child up to participate, please contact Director of Christian Education, Mary Beckhusen at .
Summer Vacation Bible School
A one-week, theme-based program each June focused solely on children and providing them with the fun, learning and relationship-building that strengthen their sense that God loves them and the church is their church--a place where they are valued and can be themselves as they discover a life-giving relationship with God. PCUM staff and a team of adult volunteers work to make VBS the highlight of the year! Vacation Bible School 2020 will be held June 29th through July 3rd, from 9:00 a.m to 12:00 noon.