PCUM's Senior High Youth ministry emphasizes faith development in real world settings. Teens in high school are busier than ever, have a range of commitments, and face internal and external pressures like never before. Rather than require or expect our teens to attend meetings or absorb information, PCUM's approach is to offer our youth a wide and consistent range of real world opportunities to discover and test the truths about God's liberating love for them--and for others.
Youth 14 -18 years-old (i.e., post Confirmation age) participate in an innovative High School Youth program that emphasizes experiencing God at work in their world, reflecting on God's love for them in Christ and its implications their lives right now. At PCUM, high school youth discern their unique identities as followers of Jesus by building relationships across traditional boundaries, leading and participating in the church's social justice programs and regular worship life, and contributing to what God is doing to make this world a better place.
Older youth are leaders in the church's programs serving homeless and hungry neighbors. They lead Sunday worship on a regular basis, and they take part in supportive activities designed to get them off campus and out of their comfort zones. Domestic and international mission trips are beloved annual experiences, as are fund raisers and opportunities to work and learn side-by-side with adults in their church family.
PCUM's Senior High Youth Program focuses in particular on meeting Christ in service to those in need. They have worked and learned in places ranging from Appalachia to New Orleans to upstate New York. In the summer of 2011, twelve PCUM youth went on an 11-day mission trip to Salvador, Brazil. In 2012, the Senior Highs experienced an "inner city immersion" experience in Washington DC, and in the summer of 2013 PCUM sent a 16-person Youth Mission Team to Nairobi, Kenya.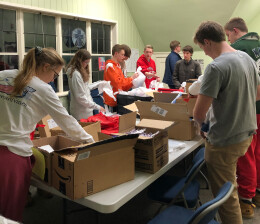 Currently, the High School youth at PCUM are active in serving their hungry and homeless neighbors through the Midnight Run, where a group of 10-12 high schoolers and adults go into Manhattan with food and basic supplies to bring food and dignity to our homeless neighbors in the city.
This special evening event is supported by the high school youth using their gifts and skills to prepare, plan, and support this ministry connection. The youth live out their calling in Matthew 25 to feed the hungry through their willingness to organize and execute each Run. PCUM typically plans one Run per quarter.
If you, or your youth, would like to learn more or be part of the Midnight Run initiative, please contact Pastor Katherine at either (973)771-4721 or for more information.
The High School youth also participate in Mission Trips or Faith Development weeks in the summer to spend intentional time with fellow PCUM youth and to form relationships with other Christians around the world. For the summer of 2020, the High Schoolers are going to Montreat Youth Conference in Montreat, NC. The theme for this summer is "We Are" and will engage how our identity as Christian connects with our many other identities.
Here's a link to watch a brief video that shows what to expect at Montreat: https://www.youtube.com/watch?v=8CKm_GoUuzs
Pastor Katherine will gladly answer any and all questions you may have regarding this fantastic trip.