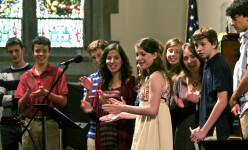 PCUM's youth ministries seek to show God's love to all teens who walk through these doors and, specifically, to nurture development of their authentic, relevant faith in Jesus Christ. Middle school and high school students have unique perspectives and questions about life, about religion and about God. PCUM's Youth Ministries provide a safe, fun and nurturing place for youth to be honest about their journeys, find real answers and follow Christ into today's world with integrity.
Through relationship-building, a commitment to serving those in need, educational opportunities and engagement with issues and neighbors close by and around the world, our Youth programs embrace young people from over a half dozen Montclair-area communities and connect them to what God is doing in and around them every day — all as they develop a deeper trust in Christ's unconditional love and gracious challenge that they live into their gifts as they prepare for the rest of their lives.
Middle School Youth Group (grades 6-8) meets weekly on Wednesday evenings for Christian-centered fellowship and fun, from 7:00-8:30 p.m. in Fellowship Hall with PCUM's Youth Director.
Senior Highs (grades 9-12) are very active in the preparation and serving of food for homeless and food insecure ministries in Newark and New York City.