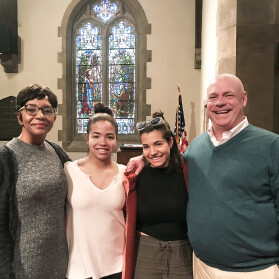 Tara, Gabrielle, Chloe & Robert
Joined in 2008
PCUM has been our vibrant church home for more than a decade. We were looking for a dynamic, Christ–based congregation who provided opportunities for our family and each of us individually to serve in whatever capacity we are able. In addition to the fellowship and the life-long friends our kids have made, through PCUM they have been able to serve others both at home and abroad. They also frequently have the chance to learn skills like speaking in public, while participating in activities like choir. As parents, we are active in programs and activities like teaching Sunday school and serving on Session. PCUM is a wonderful blend of both the traditional and progressive, and our faith is always growing with and through our church family.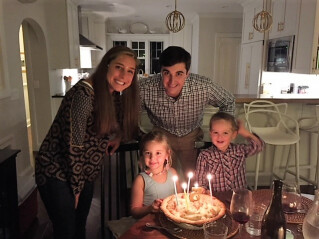 Ross, Elizabeth, Madeline (age 5) and Jack (age 2)
"We moved to Montclair from New York City in 2013, shortly after Madeline was born, in search of more square footage, green space and a strong church community to raise our family. We are happy to report we have found all three! We were introduced to PCUM by long-time members who took us under their wing when we moved to Montclair, and the community felt "right" from the beginning. Pastor Greg made us feel at home with his faithful messages and quirky jokes during his sermons. Madeline loved going to Sunday school. Many members went out of their way to greet and welcome us to the church. The
PCUM community is so welcoming of young families like ours that we felt comfortable and cared for right away (even when one of our kids interrupt the Christmas service with a well-timed cry during Silent Night). We have begun to give back to this community which has meant so much to us over the past few years. Elizabeth is part of the Assistant Pastor Nomination Committee, Madeline is a very vocal member of the Joyful Noise Choir, and Ross can often be found trying in vain to prevent Jack from eating too many Oreos at coffee hour. Above all else, we look forward to growing in our faith with the help and guidance of PCUM."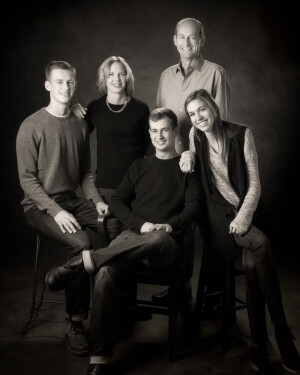 Sue, Jeremy, Will, Sam & Emily
Joined in 1997
PCUM has been a central part of our family's life for 20 years. It all began with the Mother's Group that I attended at the invitation of a friend when my oldest son was 2 years old. We felt welcome right away and were impressed with the Youth Programs. Since then our children loved participating in Vacation Bible School, Middle School Youth Group, Confirmation, High School Youth Group and the fabulous Mission Trips. PCUM is truly a place where children and teenagers are cherished and supported. Jeremy and I have both served on Session, participated in Small Groups, and volunteered for projects focusing on the broader community allowing us to live out our faith through service. We value the friendships and support we have found at PCUM.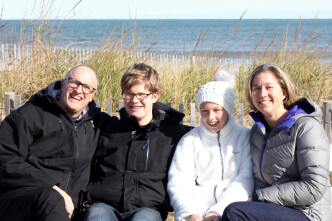 The Burkholder Matthews family
Zoë Burkholder, Chris, Dex and Hollis Matthews
Joined in 2017
Chris and I are both college professors, and after a series of moves from New York City to Long Island to Massachusetts we were more than ready to settle down in Montclair, New Jersey! We started attending PCUM in the fall of 2016, just in time for Dex to join the confirmation class and Hollis to attend Sunday school. We really appreciate church's progressive commitment to social justice and its terrific programming for families. Before we knew it, we were spending a lot of time at PCUM involved in amazing activities. Hollis was in the Christmas pageant and had fun at monthly Friday Night Live events, and Dex attended the middle school youth group, prepared meals for hungry neighbors, and participated in "midnight runs" into New York City to help folks in need. This past summer Dex joined the youth service trip Berlin and Prague, where he attended church services, toured synagogues, visited a concentration camp, and learned about the global refugee crisis. PCUM offers us a meaningful and intellectually engaging opportunity to learn about faith, Christian ministry, and what it means to be a Presbyterian.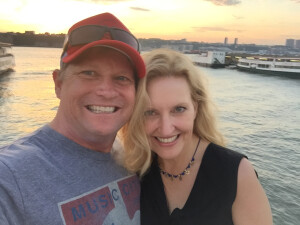 Lloyd & Jennifer
Joined in 2017
What do a Catholic and a Protestant have in common? Well, although the makings for a good joke, it turns out more than both Jennifer and I had imagined. Our path to PCUM began when we met on August 11, 2014 in New York City. Jennifer lived in Chelsea and I lived in Lake Tahoe's Incline Village, NV – two very different worlds and coasts apart. We weren't looking, but we found each other. I made up reasons to be in NYC and we spent more and more time together. The rest, as they say, is history!
Jennifer and I transitioned from the standard courtship questions like what's your favorite food and band, into deeper conversations about life, love, community and yes, God. Then I told her about my faith, which is not always easy in this secular world. I told her that I enjoy attending church and, without solicitation or bribes, she offered to go with me sometime. I knew it was love.
On Ash Wednesday 2015, I took her to the First Presbyterian Church on lower 5th Avenue in Manhattan. She had never experienced a protestant service aside from a wedding or two and she actually liked it. "It was kind of a hip crowd" she mused. It was intellectual, spiritual and non-judgmental, so I took her a couple more times. We occasionally attend Catholic services with her mother, where we don't make eye-contact with the Priest! And that's okay, because my wife was raised Catholic. Just like you can't take the Jersey out of the girl, you can't fully take the Catholic out the girl. Don't try either!
When we moved to Upper Montclair in August of 2016, Jennifer again agreed to attend church with me this time at PCUM. To my wife's horror, we not only went in the back door (we got the its okay wave from a fellow service goer), we ran into the Pastor who greeted us with a hearty hello and a smile - on his way out to preach no less! She was ashen. But quickly recovered and came to love how approachable he and everything there was. So we all have this in common, we immediately loved Pastor Greg. We found him intelligent, personable, interesting, and sometimes even funny! The members we met and continue to meet followed suit. They are warm, engaging, energetic and caring. We had initial reservations about joining as members due to our travels and the transient nature of our careers. However, we couldn't resist the ubiquitous charm and kindness. Since we are here in Montclair, we decided, we need to make the most of our experience and surround ourselves with forward thinking people that have grounded principals and values, and to be a part of something bigger than us. In spring of 2017, we joined PCUM and because of this we have a better sense of community, opportunity for purposeful fellowship, for outreach, spirituality, for friendship, for better lives. It just felt right.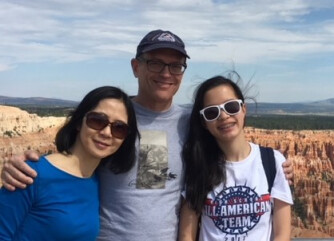 Carmen, Mark & Grace
Joined in 2013
We visited many churches in Montclair until we came to PCUM. We were searching for a fluid church that had a friendly and compassionate congregation, strong theological teaching, a vibrant music ministry (for little children, youth and adults), a lively youth program and lots of opportunities to serve others. We are happy to report that we have found all these elements at PCUM. Of course, we would be remiss if we do not mention Pastor Greg's sense of humor and his enthusiastic personality. In summary, we feel blessed to be part of the PCUM family.
JT, Jennie, Jack and Jayne
Joined in 2015
PCUM has been special to our family since the beginning...we were married in the beautiful sanctuary here! At the time, we were living in the area but still active members of Fifth Avenue Presbyterian Church in NYC. Slowly but surely, we started attending PCUM more regularly. By the time our son Jack was about 18 months old, we could tell that he felt at home here at PCUM. Our daughter Jayne was baptized here, and ever since that time, both of our children have actively participated in church school, the Joyful Noise Choir, the Young Families Playgroup and so much more. PCUM is a huge part of our lives in this community. It grounds us, connects us to an incredible community of faith and offers a refuge from the craziness of our everyday lives. We thank God for PCUM!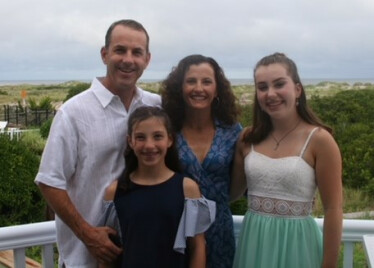 The McElwee Family
Tom, Lisa, Emma and Ali
Joined in 2010
The first thing I remember about PCUM was the children's sermon. First, there were a lot of kids. Second, it was active and engaging, and fun. Third – the emphasis was on God's love for each and every child, just as they are. Over our family's 8+ years of worshiping at PCUM, that message has remained constant, applied both to children and adults. Our daughters, Emma (15) and Ali (11) have grown up in the church—from Sunday school to Christmas Pageants to Confirmation to serving our homeless neighbors and, most recently for Emma—to working with Syrian refugees on a life-changing mission trip to Berlin and Prague.
Our family has grown with PCUM over these years. We've formed lifelong relationships, found many ways to participate and serve, particularly in music ministry, and most important, learned and continue to learn about our faith and our call to love just as God has loved us.