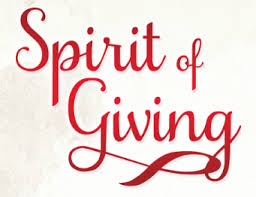 Give the Gift of the Spirit of Giving
this Christmas!
PCUM's annual Spirit of Giving Fair is a great way for members and friends to take part in Christmas cheer. This year you are invited to contribute two different ways, by monetary donation to Smile Train or by purchasing an angel tree gift:
Smile Train is an international children's charity with a sustainable approach to a single, solvable problem: cleft lip and palate. Millions of children in developing countries with unrepaired clefts live in shame, but more importantly, have difficulty eating, breathing and speaking. Cleft repair surgery is simple, and the transformation is immediate. Smile Train's sustainable model provides training and funding to empower local doctors in 85+ developing countries to provide 100%-free cleft repair surgery in their communities. Smile Train also trains local doctors to perform cleft repairs in their communities. Those doctors then go on to train other doctors creating a long-term, sustainable system. Smile Train has transformed the lives of more than one million children by giving them the power of a smile.
Since 2004, Real House, Inc. has transformed the lives of over 3,000 women and men, through their emergency shelters for women and men, substance abuse treatment program, halfway houses and sober living homes. Real House Inc. established the WE CARE motto, which incorporates six core values—Wellness, Empathy, Compassion, Advocacy, Respect, and Equity—under a person-centered model of service. Real House Inc. provides shelter to homeless women in Montclair. In their two large houses, they house women who have nowhere else to turn. They are not a typical homeless shelter. The residents are invited to stay for up to a year and receive treatment for substance abuse (if warranted), job training, coping skills workshops, and life planning to assist them in becoming self-sufficient.
This year, the Spirit of Giving begins November 24 and will run for 4 consecutive Sundays, ending on December 15. Simply stop by the Deacons' Table in Fellowship Hall to make a donation or to select an "angel" off the tree. If you donate to either organization in honor or memory of someone special, you will receive a Spirit of Giving card to tell them of your gift in their honor.
Thank you for your generosity and support of this beloved ministry of PCUM. Together, we can make an impact both locally and globally this Christmas season and share the Christmas Spirit far and wide!