"...I was a stranger, and you welcomed me..." Matthew 25:35
At PCUM, you can provide hospitality and tangible help to homeless neighbors in two active, "hands-on" ministries: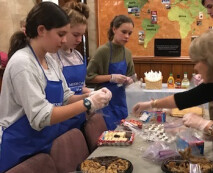 Sign up to serve at PCUM's
"7th Street Bistro" Newark Meals Program
(the third Saturday of each month)
Four volunteer servers assemble lunches and interact with guest from 10 a.m. to 1 p.m.
Other PCUM volunteers provide food and refreshments for (approx 70) guest lunches.
PCUM joins in partnership with several area Presbyterian congregations to serve at this Newark-based hunger ministry. During the COVID-19 pandemic, the church's volunteer-driven program enables you to partner with other volunteers safely to prepare "take-away" lunches to 50-75 hungry neighbors and families on the 3
rd
Saturday of each month. This is a rewarding and meaningful experience for all! To sign up to serve visit:
https://tinyurl.com/7thStreetBistro
.
If you would like more information contact .
---
Sign up to prepare hot meals for
hungry Montclair neighbors with M.E.S.H
PCUM is an active member of a coalition of Montclair-area churches and synagogues called M.E.S.H (Montclair Emergency Services for the Homeless) — working together to provide hospitality and assistance to adults living on the streets of our hometown. PCUM prepares and serves the evening meal to hungry and homeless neighbors right here in Montclair on the
first and fourth Saturdays
of the month. There are many opportunities to prepare food, serve meals, and sing and/or play music for MESH guests. You can sign up here:
MESH VOLUNTEERS
. Contact the Mission & Service Committee at
with questions. For more information on M.E.S.H., you can visit their website at
www.meshmontclair.org
.