"Music is the shape and form of the invisible."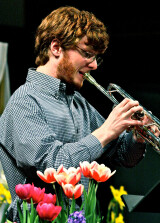 ~ Leonardo da Vinci
Music is the heartbeat of this congregation's vibrant worship life, and everyone is involved--through congregational singing, choral anthems, regular contributions by three children's choirs and outstanding solo, small group and instrumental offerings.
Worship music at PCUM features an intentional blend of classical sacred music, Protestant hymnody, contemporary praise music, Gospel songs and spirituals. A uniquely-gifted choir and talented soloists and instrumentalists offer their musical gifts throughout the year. Children sing and lead worship frequently, enriching our shared experience and learning through experience that this is their church and that we can't be who we are without them.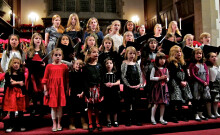 At PCUM, we believe that music is the language of prayer, a conversation that allows worshipers to speak and listen to God, each other, and ourselves at the deepest, most honest levels. Many singers and instrumentalists here are trained musicians, and many just love to sing. The quality is high; yet our music program's most obvious qualities are a Spirit of welcome and a shared love for making music in praise of God.
PCUM's music program is open to everyone, from the youngest singers to professional artists, from first-time visitors to long-time worshipers.