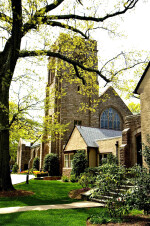 Your wedding is one of the most exciting days of your life and one of the most meaningful events you can share with family and loved ones. In the Christian tradition, a wedding is a worship service, the moment when a couple gives thanks to God as the source of their love and — on the foundation of the love — commits themselves to a married life together.
The Presbyterian Church of Upper Montclair is is privileged to host weddings for both church members and non-members alike, although members of the congregation have priority when scheduling.
Weddings at PCUM may be scheduled at any time according to the following criteria:
* Prior to booking a date, the couple meets initially with a pastor to discuss their relationship and desire for a Christian wedding, the requirements set forth by the church, and scheduling.
* Both the couple and the pastor must agree to go forward with the wedding, and the pastor confirms the desired date and time in writing.
* The couple agrees to meet with the PCUM pastor who will officiate at their wedding at least three times prior to the wedding date;
* The couple agrees to the fee structure and terms of use set forth by the church.
Non-members, please note: A PCUM minister must perform (either alone or in tandem with another clergy) the wedding ceremony. Participation by clergy not affiliated with this congregation must be approved by the church Session (governing board).
Weddings at PCUM feature the following amenities:
beautiful, air-conditioned neo-gothic sanctuary

conveniently located in northern New Jersey metro area (near Garden State Parkway) and fifteen miles from New York City.

center aisle with exceptional stained glass windows

bride's dressing room

beautiful east entrance and grounds for photos

excellent acoustics

live-streaming and video recording options available (for additional fee)

ceremonies performed in the Reformed worship tradition of Presbyterian Church (U.S.A.), with emphasis on God's Presence as the Source and foundation of the couple's relationship and married life together, as well as the participation and affirmation of their community of loved ones.