Greg Horn, Pastor & Head of Staff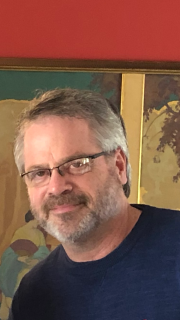 The Rev. Gregory A. Horn has been PCUM's pastor since early 2009. Greg is a graduate of Stanford University in California and Union Theological Seminary in the City of New York, where he was recognized for his preaching and promise of future excellence in parish ministry.
Since 1991 he has led four Presbyterian congregations through periods of sustained renewal, vitality and growth. Greg was ordained and started his ministry as pastor of the Fewsmith Memorial Presbyterian Church in Belleville, New Jersey, a transitioning, working class community on the border of Newark. From 1995 to 2000 he led the vibrant First Presbyterian Church of Englewood in south Denver, Colorado. From 2000 to 2002 Greg served as Director of Operations for a New York City agency that employed recently-incarcerated felons and housed homeless persons living with HIV/AIDS. Before coming to PCUM, Greg served from 2002 to early 2009 as Senior Pastor/Head of Staff at the First Presbyterian Church of Cranford, New Jersey, leading that 700-member congregation through an exciting period of growth and revitalization.
Since 2005 he has also served on staff at Auburn Theological Seminary in New York City, advising Presbyterian students preparing for vocations in ministry and lecturing at Union Theological Seminary on Reformed theology and worship as well as Presbyterian polity. Before becoming a minister, Greg used to do things like temp in New York City, design educational software for Microsoft in Seattle, study German history in Berlin, dig ditches and hold stop/go signs in Spokane, clerk at a corporate law firm in San Francisco, and start a Ph.D. program (which he never finished) in Baltimore.
Greg's approach to pastoral ministry is grounded in compelling worship, valuing diverse voices and relationships, the spiritually-transforming experience of serving others while working for social justice, and an openness to embracing the "new thing" that God is always doing. He is dedicated to the biblical vision of an inclusive, Christ-centered community where everyone, of any age or perspective, is welcomed as a beloved child of God and is called to trust God's promises in all aspects of life.
Greg is married to Sarah Touborg-Horn, who is Editor at W.W. Norton & Co. Publishers in New York City. They are parents of high-schooler Will and middle schooler, Maggie. Greg loves to read, teach, travel, ski, re-watch movies, and do anything with his children and his rescue-dogs, Gollie and Percy. He can be reached at .
Anne Marie Juliano, Director of Music Ministries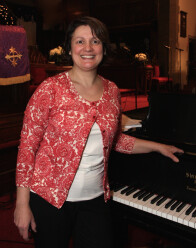 Anne Marie Juliano has developed and led PCUM's dynamic Youth Choir program since late 2013, nurturing the congregation's young people as worship leaders with an emphasis on music making as an act of praise arising from our gratitude for all of God's gifts.
Anne Marie was born to Christian missionaries in Tangier, Morocco and spend her grade school years in Malaga, Spain before moving with her family to the United States. Her family settled in West New York, NJ, where her father served for many years as pastor of Iglesia Bautista Nazaret (Nazareth Baptism Church) among the influx of Latin American and Caribbean immigrants to that area. From the age of 14, Anne Marie served as Nazareth's pianist as well as the director of music and choirs.
Currently the vocal music teacher at Montclair's Glenfield Middle School, Anne Marie directs an 80 voice choir and is musical director for play productions. Since 1984, she has taught throughout the Montclair Public School district at the elementary, middle school, and high school levels. Anne Marie received her Bachelor of Arts degree in Music Education from Rutgers University-Newark in 1982 before beginning her full-time teaching career.
Before coming to PCUM, Anne Marie directed handbell and children's choirs at Union Congregational Church in Montclair. Since the fall of 2005. she has sung in PCUM's Chancel Choir, accompanied the choir and congregation on organ and piano, served as an inspiring and enthusiastic worship leader, and nurtured countless youth and adults as they offer their voices in praise of God. Anne Marie may be reached at .
Jordan Green, Youth Director
Jordan grew up at PCUM and now provides relevant programming for both Middle School and Senior High Youth. He is a 2020 graduate of Seton Hall University with degrees in Secondary Education, Music and Theatre. An accomplished musician, he sings, plays guitar, bass, piano, banjo, mandolin, trumpet, violin and cello. He also composes and arranges music. In 2016, Jordan released his debut album "Needle in a Haystack" on Bongo Boy records. The title track "Take a Ride" received a first-round Grammy nomination and the album has been in rotation on radio stations in cities all over the world including Nashville.
At Seton Hall, Jordan was the musical director for several student productions. He was the tenor soloist in the University Choir and the Director of "The Gentlemen of the Hall" - the University's all-male acapella group. He currently is the Choral Music Director at Robert Lazar Middle School in Montville where he teaches 6-8th grade choir and general music. He is PCUM's tenor soloist and section leader and he teaches private lesson in piano, violin, guitar, ukulele and voice. Jordan can be reached at .
Denise Silecchia, Church Administrator, Soprano soloist and Joyful Noise Choir Director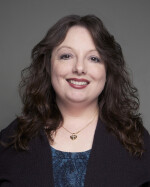 After graduating from Montclair State University with a degree in vocal performance, Denise Silecchia came to PCUM way back in 1985 as soprano soloist and section leader, and in 1991 she took on the additional ministry of Church Administrator. She oversees a busy church office and keeps members, friends and visitors informed and connected, by voice, online or in print.
As a singer, Denise was a protege of legendary Metropolitan Opera bass Jerome Hines and has performed operatic roles with local companies including Opera at Florham and Stony Hill players. She has also sung as a soloist with the Aspen Music Theater Center, the Montclair Chamber Ensemble, the New Jersey Oratorio Society, the New Jersey Philharmonic Orchestra, the Essex Chamber Orchestra, the Garden State Chorale and the Long Island Concert Pops Orchestra.
Denise is also ESL instructor and teaches English online to school age children in China. She is also teaches voice lessons in her private studio in West Orange, NJ. Denise can be reached at .
Julie Platte, Children's Choir Director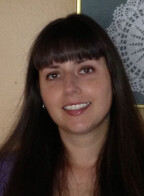 Julie Platte leads PCUM's music program for children grades 2 though 6. She has taught music to students from elementary school-age through college and adults - and is certified music teacher in the state of NJ. Julie currently teaches Chorus, Musical Theatre and Music Appreciation at Hackensack High School, where she music-directs the spring musicals. An active voice teacher and performer herself, she has sung roles from Cinderella in Into the Woods to the televised world premiere of Sara Williams in the opera York: The Voice of Freedom. Julie was faculty at Georgian Court University and currently maintains a private studio in Belleville. She holds a Bachelor of Music degree from Rutgers University's Mason Gross School of the Arts and a Master of Music in Vocal Performance and Pedagogy from Penn State University. Her paper on musical theatre singing for classical voice teachers was published in the Journal of Singing. Julie resides with her husband, three children and six special needs cats. Julie can be reached at .

Jimmy Abad, Sexton
A key member of the PCUM staff and family, Jimmy Abad is a custodial professional who cares for and oversees the church's buildings, its partners in ministry, and all its people. His "other career" is in full-time custodial service to several schools in Montclair. You can find Jimmy at the church on Sunday mornings as well as most evenings during the week.