Greg Horn, Pastor & Head of Staff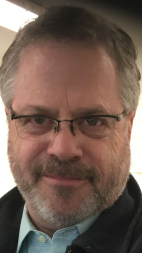 The Rev. Gregory A. Horn has been PCUM's pastor since early 2009. Greg is a graduate of Stanford University in California and Union Theological Seminary in the City of New York, where he was recognized for his preaching and promise of future excellence in parish ministry.
Since 1991 he has led four Presbyterian congregations through periods of sustained renewal, vitality and growth. Greg was ordained and started his ministry as pastor of the Fewsmith Memorial Presbyterian Church in Belleville, New Jersey, a transitioning, working class community on the border of Newark. From 1995 to 2000 he led the vibrant First Presbyterian Church of Englewood in south Denver, Colorado. From 2000 to 2002 Greg served as Director of Operations for a New York City agency that employed recently-incarcerated felons and housed homeless persons living with HIV/AIDS. Before coming to PCUM, Greg served from 2002 to early 2009 as Senior Pastor/Head of Staff at the First Presbyterian Church of Cranford, New Jersey, leading that 700-member congregation through an exciting period of growth and revitalization.
Since 2005 he has also served on staff at Auburn Theological Seminary in New York City, advising Presbyterian students preparing for vocations in ministry and lecturing at Union Theological Seminary on Reformed theology and worship as well as Presbyterian polity. Before becoming a minister, Greg used to do things like temp in New York City, design educational software for Microsoft in Seattle, study German history in Berlin, dig ditches and hold stop/go signs in Spokane, clerk at a corporate law firm in San Francisco, and start a Ph.D. program (which he never finished) in Baltimore.
Greg's approach to pastoral ministry is grounded in compelling worship, valuing diverse voices and relationships, the spiritually-transforming experience of serving others while working for social justice, and an openness to embracing the "new thing" that God is always doing. He is dedicated to the biblical vision of an inclusive, Christ-centered community where everyone, of any age or perspective, is welcomed as a beloved child of God and is called to trust God's promises in all aspects of life.
Greg is married to Sarah Touborg-Horn, who is Editor at W.W. Norton & Co. Publishers in New York City. They are parents of high-schooler Will and middle schooler, Maggie. Greg loves to read, teach, travel, ski, re-watch movies, and do anything with his children and his rescue-dog, Percy. He can be reached at .
Millie Tourtelot, Director of Christian Education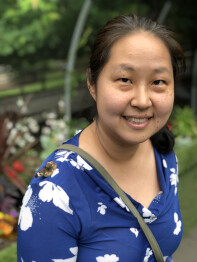 Millie, an active member and leader at PCUM, brings a wealth of enthusiasm, experience, and theological training to the all-important ministry--our congregation's priority--of showing God's love to our church family's children, organizing all the programming and classes and activities that involve children, and supporting parents and volunteer teachers as we walk forward in faith together.
Millie graduated from the University of Chicago in 2001 with a BA and MA in Linguistics and then earned her Master of Divinity (M.Div.) at Princeton Theological Seminary in 2008. Combining her love of language studies and theology, Millie intended to pursue an academic career in Old Testament studies, but she fell in love with parish ministry after accepting a position in 2008 as the Director of Christian Education (DCE) at Madison Avenue Presbyterian Church in New York City, where she served for six years.
Millie is a born and bred New Yorker who says she is still surprised at how much she loves life in a New Jersey suburb. Since moving to Montclair in 2015 with her husband Max and daughters Arden (now 11) and Clarissa (almost 8), she has been a stay-at-home mom, active in the community and busy at home channeling her inner Martha Stewart. Besides serving as an Elder on PCUM's Session from 2018-2021,
in recent years Millie has also served on the board of Union Congregational Church's Weekday Nursery School and the PTA of Charles H. Bullock Elementary School in Montclair. Millie may be reached at .
Anne Marie Juliano, Director of Music Ministries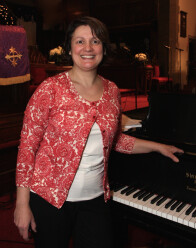 Anne Marie Juliano has developed and led PCUM's dynamic Youth Choir program since late 2013, nurturing the congregation's young people as worship leaders with an emphasis on music making as an act of praise arising from our gratitude for all of God's gifts.
Anne Marie was born to Christian missionaries in Tangier, Morocco and spend her grade school years in Malaga, Spain before moving with her family to the United States. Her family settled in West New York, NJ, where her father served for many years as pastor of Iglesia Bautista Nazaret (Nazareth Baptism Church) among the influx of Latin American and Caribbean immigrants to that area. From the age of 14, Anne Marie served as Nazareth's pianist as well as the director of music and choirs.
For over 25 years, Anne Marie was a the vocal music teacher at Montclair's Glenfield Middle School where she directed an 80 voice choir and was musical director for play productions. Since 1984, she has taught throughout the Montclair Public School district at the elementary, middle school, and high school levels. Anne Marie received her Bachelor of Arts degree in Music Education from Rutgers University-Newark in 1982 before beginning her full-time teaching career.
Before coming to PCUM, Anne Marie directed handbell and children's choirs at Union Congregational Church in Montclair. Since the fall of 2005. she has sung in PCUM's Chancel Choir, accompanied the choir and congregation on organ and piano, served as an inspiring and enthusiastic worship leader, and nurtured countless youth and adults as they offer their voices in praise of God. Anne Marie may be reached at .
Graham Bridgeman, Pastoral Intern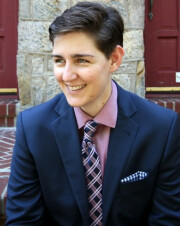 Graham Bridgeman is our congregation's, part-time Pastoral Intern, serving the church 6-8 hours per week. A member of Broadway Presbyterian Church in New York City and an Inquirer in our Presbyterian Church (U.S.A.)'s ordination process, Graham is a seminary graduate, a seasoned professional, and an outstanding pastoral leader who will bring his rich variety of gifts to the PCUM family.
Graham hails from California, where he grew up in the Presbyterian Church before coming east to pursue dreams of Broadway. He earned his BFA in Theater and BA in English Literature from NYU before finding his way into nonprofit work. He has worked in philanthropy at public foundations, religious institutions, and public interest law firms for over 15 years.
In 2017, Graham took a hiatus from the non-profit sector to pursue his Master of Divinity at Yale Divinity School, where his work focused on questions of race, economics, stewardship practices, gender/sexuality, and organizational administration. During his time at YDS he was awarded the Henry H. Tweedy Scholar for exceptional academic records and unusual promise for outstanding leadership, as well as the Jess H. and Hugo A. Norenberg Prize for Excellence in Preaching and/or Corporate Worship.
Graham is currently serving as a Senior Philanthropic Officer at the American Red Cross while he completes the requirements to become a Minister of Word & Sacrament in the Presbyterian Church. In his spare time he enjoys volunteering, traveling, baking, playing Dungeons & Dragons, and hanging out with his partner Frances and their three cats.
Garrett Pahl, Youth Director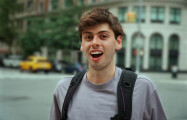 A champion yo-yo-er and a tennis instructor for years, Garrett grew up at PCUM, going through Sunday School, Confirmation, and Youth Group. As a high schooler, he volunteered as a "senior high helper" during the years Pastor Lauren Scharstein oversaw our flourishing youth program(s). In 2017, he headed off to Boston University, where he graduated cum laude in 2021 with a degree in Film and Television, honing his unique gifts of creativity, humor, authenticity, and making every person he meets feel important. Indeed, when he applied for the position leading PCUM's youth, Garrett inspired us with his thoughtful observations about the joys and challenges of being a teen in today's world--and the church's calling to make a life of faith relatable and relevant to kids today.
Garrett leads weekly Wednesday night Middle School Youth Group meetings for 6-8 graders and works with Senior Highs in community-based mission/service programs that enable the church's older teens to focus on caring for and serving others including hungry neighbors in Newark and homeless friends in New York City through the Midnight Run program. He organizes fun fellowship outings and faith-based retreats for both age groups. Garrett can be reached at .
Denise Silecchia, Church Administrator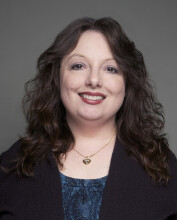 After graduating from Montclair State University with a degree in vocal performance, Denise Silecchia came to PCUM in 1985 as soprano soloist and section leader, and in 1991 she took on the additional ministry of Church Administrator. She oversees a busy church office and keeps members, friends and visitors informed and connected, by voice, online or in print.
As a singer, Denise was a student of legendary Metropolitan Opera bass Jerome Hines and has performed operatic roles with local companies including Opera at Florham and Stony Hill players. She has also sung as a soloist with the Aspen Music Theater Center, the Montclair Chamber Ensemble, the New Jersey Oratorio Society, the New Jersey Philharmonic Orchestra, the Essex Chamber Orchestra, the Garden State Chorale and the Long Island Concert Pops Orchestra. Denise is also teaches voice and piano lessons in her private studio in West Orange, NJ. Denise can be reached at .
Jordan Green, Tenor Soloist & Section Leader
Jordan grew up at PCUM and is a 2020 graduate of Seton Hall University with degrees in Secondary Education, Music and Theatre. An accomplished musician, he sings, plays guitar, bass, piano, banjo, mandolin, trumpet, violin and cello. He also composes and arranges music. In 2016, Jordan released his debut album "Needle in a Haystack" on Bongo Boy records. The title track "Take a Ride" received a first-round Grammy nomination and the album has been in rotation on radio stations in cities all over the world including Nashville.
At Seton Hall, Jordan was the musical director for several student productions. He was the tenor soloist in the University Choir and the Director of "The Gentlemen of the Hall" - the University's all-male acapella group. He currently is the Choral Music Director at Robert Lazar Middle School in Montville where he teaches 6-8th grade choir and general music. He also teaches private lessons in piano, bass, guitar, and voice. Jordan can be reached at .

Jimmy Abad, Sexton
A key member of the PCUM staff and family, Jimmy Abad is a custodial professional who cares for and oversees the church's buildings, its partners in ministry, and all its people. His "other career" is in full-time custodial service to several schools in Montclair. You can find Jimmy at the church on Sunday mornings as well as most evenings during the week.