Sunday morning
Sunday morning worship services start at 10 a.m. and run approximately 65-75 minutes. Worship at PCUM is both relaxed and reverential, centered around our engagement with God's Word and responding individually and as a community with honest prayer, joyful singing and shared commitment to following Jesus toward God's vision for our lives and the world at large. A Spirit of warmth and fellowship is palpable. Children have a central role in every service.
The church is located at 53 Norwood Avenue in Upper Montclair, in a residential neighborhood just north of Bellevue Avenue and between Park Street to the west and Grove Street to the east. Parking is available on the several streets that intersect at the church.
The main entrances to the beautiful sanctuary are located on the east (with the circular driveway) and west (Norwood Avenue) sides of the building. Entrances are also located at the northeast and northwest ends of Fellowship Hall.
Listen or view recent worship services
What should I wear?
PCUM is not a particularly formal church — there is no Sunday dress code! Some men wear jackets and ties, some wear khakis. Some women wear dresses, some wear slacks. Just dress comfortably and in a way that reflects who you are and your love for God and God's people.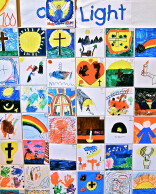 If you have children...
At PCUM, children of all ages are welcome and encouraged to participate in worship — as an important part of their education in church. Since worship is the heartbeat of the Christian life, children begin their Sunday morning experience by worshiping in the sanctuary with their families and their church family. Each week, they share in the opening songs and prayers, take part in baptisms and other special events of the day, hear Scripture read, and — following the Children's Sermon — move to their Church School classes.
Children of any age are welcome for the entire service, at parents' discretion. If preferred, on Sunday mornings nursery care is always available for infants and toddlers. PCUM's Nursery and Toddler Room are located on the main floor at the northeast end of Fellowship Hall, just a few feet from Coffee/Fellowship Time. Ask an usher for directions.
Sunday Morning Classes for Kids
Church School classes are 10:20 - 11:15 each Sunday morning. Children's classrooms are located on the main and lower floors of the North Wing at the far end of Fellowship Hall. Signs are posted, but please ask if you need help.
Children and the Lord's Supper (Communion)
In the Presbyterian Church (U.S.A.), all baptized Christians of any age are welcome at the Lord's Table, trusting that forgiveness and abundant life are not rewards conferred on the worthy but gifts of grace to those who come in faith, acknowledging their brokenness and seeking reconciliation with God and neighbor. In other words, a specified age or "level" of faith or understanding, is not required to be in Christ's Presence.
PCUM provides children of all ages instruction in the meaning of the Sacrament of Communion. With their parents' permission, baptized children who are being nurtured and instructed in the significance of the Lord's Supper at their level of understanding are invited to receive and share Communion. Here at The Presbyterian Church of Upper Montclair, the Lord's Supper is celebrated the first Sunday of the month.
Nursery and Toddler Care
Child care is available every Sunday morning and for most PCUM programs. If you would like to take part in any activity and want to be sure you'll have child care, just contact the Church Office at or 973-746-3853. A beautiful, staffed Toddler Room and Nursery are located at the northeast end of Fellowship Hall.
Please ask! If you need help finding your way around or knowing what to do, please ask someone.
To find out more, please contact Pastor Greg Horn ( ) or call the Church Office at 973-746-3854.