The history and ministry of the Presbyterian Church of Upper Montclair (PCUM) began in 1906 as a neighborhood prayer meeting in the home of Mr. and Mrs. Timothy Sellew, at the corner of Inwood Avenue and Park Street. Soon the group of faithful Christians formalized their association by erecting a chapel and a manse on the current church grounds. The first service of worship in the new facilities was held on October 13, 1907, with 61 people at worship and 26 children enrolled in the church school.


With 36 charter members, the Presbyterian Church of Upper Montclair was officially organized as a congregation of the Presbyterian Church in the United States of America in January 1908. Along with the land and the original church buildings, the Sellew family provided for the construction of the church's beautiful neo-Gothic sanctuary, which was completed in 1913. PCUM's sanctuary seats 400 worshipers in its nave and balcony, and features examples of the finest in stained glass windows.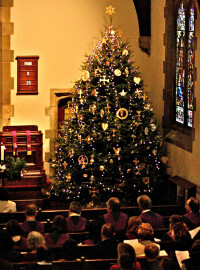 Throughout its history, PCUM has been blessed with continuity and dedication in its pastoral leadership. The Rev. Dr. Robert C. Williamson served from 1925-1940. The Rev. Dr. Joseph C. Dickson, for whom the Education-Fellowswhip building is named, served from 1941-1970. From 1970-1992, the Rev. Edwin C. Bockstiegel was pastor. On his retirement, the Church School was named in his honor, and he was elected pastor emeritus in 1993.
Rebecca and John Hart served as Co-Pastors from 1993 until 2006, presiding over a sustained ministry of growth and revitalization. In 2009, the Rev. Gregory A. Horn began his ministry as Pastor, and in 2012 this growing community welcomed the Rev. Lauren Wheeler Scharstein as Associate Pastor for Youth and Families. In 2018, the Rev. Katherine Scott-Kirschner took over Pastor Lauren's position and is currently serving as Associate Pastor for Youth and Families.
Today, PCUM serves and draws its diverse membership and active friends from all parts of Montclair--as well as the surrounding communities of Glenridge, Bloomfield, Verona, Clifton, Cedar Grove, West Orange--and from as far away as Denville, Hoboken and New York City.