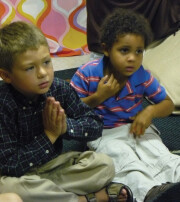 The Presbyterian Church of Upper Montclair is committed to helping you raise your child in this faith community. That commitment begins from birth or whenever we are privileged to welcome your child as part of this church family. Our Toddler Room/Nursery program is dedicated to nurturing children from infancy to three years old by providing a safe place to experience and learn about God and God's love.
Our beautiful and bright Toddler Room/Nursery is located in the church's Education Building, just to the north end of Fellowship Hall. The Toddler Room and Nursery are staffed with loving, experienced professional care givers and, often, parent volunteers. The Nursery is for newborn babies to the walking stage. The Toddler Room is designed for steady walkers.
Child Safety and Care
Your child's well-being is of paramount importance to PCUM. To ensure their safety we require that all children be registered for the Toddler Room or Nursery. You may register on Sundays when you bring your child. Registering your child enables us to:
Contact you when/if necessary.
Keeps us informed with your child's allergies, medications and special needs
Ensures a safe dismissal process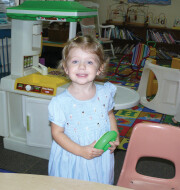 PCUM's Childcare Hours
The nursery is open Sundays from 9:00 am to 12 noon. Childcare is provided during both worship services by bringing your child to the Toddler Room or Nursery before the service and picking them up after. Childcare may also be available for special services and events. For more information about the nursery or to request that childcare be scheduled, please contact the Mary Beckhusen, Director of Christian Education, at 973-746-3854 or
Infant or Child Baptism
Baptism is a special event in the life of a a child, an individual, a family and their church family. It represents God's unconditional and covenant love, which is our birthright as God's children. Baptism usually occurs during infancy, though in the Presbyterian Church a person may be baptized at any age. In baptism, which is the entrance into the life of the church, parents and adults publicly declare their desire that their children or they themselves be baptized in response to God's gift to them of unending love in Jesus Christ.
If you would like to learn more about baptism for your child, contact Pastor Greg Horn at or 973-746-3854.